Cold War history of Czechoslovakia
This is a reminder to check out the latest publications of our book series: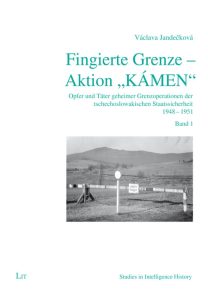 The independent researcher Václava Jandečková unveils an especially dark chapter in the Cold War history of Czechoslovakia in her books "Fingierte Grenze – Aktion "KÁMEN". Opfer und Täter geheimer Grenzoperationen der tschechoslowakischen Staatssicherheit 1948-1951. Band 1 & Band 2".
Book reviews (in German):
"Was nach Spionagethriller klingt, ist für die Opfer der "KÁMEN"-Aktionen der Weg in die Fänge eines skrupellosen Unrechtsstaates. Václava Jandečková führt in ein dunkles Kapitel der Geschichte des beginnenden Kalten Krieges im Herzen Europas."
Prof. Dr. Patrick Ernst Sensburg, Universität Wien und Hochschule für Polizei und öffentliche Verwaltung Nordrhein-Westfalen, Mitglied des Deutschen Bundestags
"Dieses überaus wertvolle Buch deckt die perfide und menschenverachtende Strategie und Methodik der Täuschung ausreisewilliger Staatsbürger an einer falschen deutsch-tschechischen, damals zugleich US-zonalen Grenze auf und charakterisiert die provozierenden Täter wie die tragischen Opfer dieser Falle."
Prof. Dr. Siegfried Beer, Karl-Franzens-Universität Graz, Austrian Center for Intelligence, Propaganda and Security Studies (ACIPSS)
"Václava Jandečkovás Buch ist das Ergebnis einer grandiosen historischen Recherche zu den fingierten Grenzen, welche die Staatssicherheit der Tschechoslowakei in den Jahren nach dem kommunistischen Umsturz von 1948 im Grenzgebiet errichtete, um Flüchtende in eine perfide Falle zu locken. Es ist ein großes Verdienst der Autorin, dass es ihr gelingt, eine der geheimsten Methoden der tschechoslowakischen Geheimdienste auszuleuchten."
Dr. phil. Adrian Hänni, Guest Scholar at the Center for German and European Studies (CGES), Georgetown University
The books are published by LIT Verlag, Berlin.
ISBN: 978-3-643-25015-5
Nr.: 5
Year: 2021
Pages: 262
ISBN: 978-3-643-25048-3
Nr.: 6
Year: 2022
Pages: 272